10. We can't listen to the radio for more than 10 minutes without them talking about her, or without hearing one of her songs.
9. She thinks she's groundbreaking in everything she does. She needs to take a piece of the humble pie.
8. The way she calls herself "Lady Gaga". It's hard to miss when she says her name in nearly every song. What ever happened to 1st person speech?
7. Because of the lyric "I wanna take a ride on your disco stick." I'm pretty sure this lyric is self explanatory
6. For the sheer fact that her clothes are so tight and small I know what she would like naked more than my own body.
5. She dances in blood.
4. The way that she can wear weird clothes and call it fashion. People need to treat her like a child and just ignore her acting out. She was on MTV's Boiling Points once and used to be normal, so this weird behavior and clothes is just for fame.
How many Kermits did she have to kill for this outfit?
3. Her shoes. Looks like she kills Armadillos too.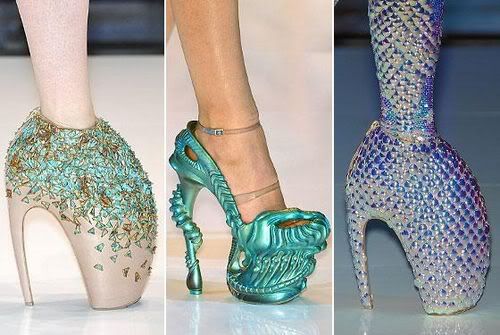 2. I never see her wearing any pants.
1. When Michael Jackson and Justin Timberlake grab their own crotch it's a dance move. When she does it I feel like she's giving me herpes.